Lewis wins Wiltshire Coach of the Year Award (2019)
ewis is awarded the Coach of the Year at the Wiltshire Awards Night on Wednesday 4th December 2019.
Lewis was nominated for the Coach of the Year Award due to the significant impact he has made on the tennis programmes and players at Ramsbury and Great Bedwyn Tennis Club.
Lewis is without doubt one of the most committed and respected coaches in Wiltshire and his hard work at Ramsbury Tennis Club is now bearing fruits for years of hard work in both Development and Performance sides of the game at both a Junior and Adult level.  21 of the juniors are also in the County squads and Lewis is one of the Lead County coaches.  He had players who were winners and runner ups at the County Junior Championships and one of his players, coaches by Lewis, reached the final of the 'Road to Wimbledon' tournament.
Lewis is extremely passionate about the game and his drive and resourcefulness ensures that all players he coaches regardless of age or ability reach their full potential in the game.  His standard of delivery are of a very high level and his interaction with parents and pupils off court are exceptional.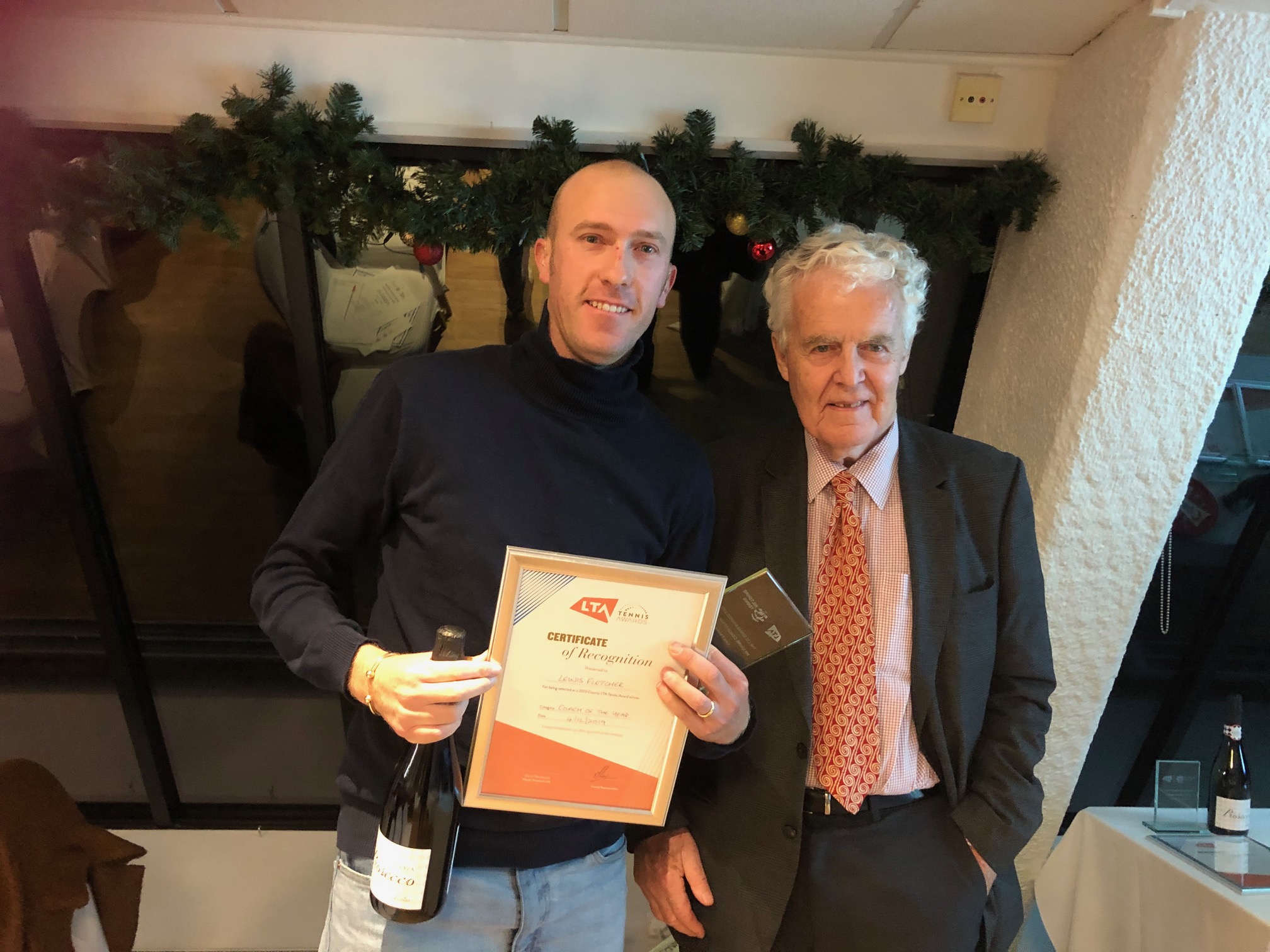 Hitting all
the right shots…
Lucie Ahl
Former No. 1 British Player
Lewis and Catherine have a huge passion for tennis, this shows in the way they play and in the way they coach. They both take a lot of pride in trying to offer opportunities for all levels helping you not only improve your game but also to enjoy it. The level they have reached as players gives them a huge amount of expertise and experience. Above all they both really care about their players as individuals.
Julie Jones
LTA Tennis Development Manager
Lewis and Catherine have made a very positive impact on tennis in Wiltshire over the past 12 years and the LTA is delighted that their programme continues to grow and more people within the local community have the opportunity to experience the wonderful sport of tennis.
Roger Jones
Tennis Consultant and former GB Deaf Tennis Team Manager
Lewis and Catherine are fantastic tennis role models and wonderful Deaflympic athletes. I have no hesitation in recommending their coaching services to players of all ages and standards, from those wishing to participate occasionally to aspiring young champions.
Chunyuan & Tony Luo
Parents – Ramsbury Tennis Club
Tennis Xperience has helped us to recognise the potential of our 8 year-old son and facilitated us with their invaluable insights to help him in growing his skills, confidence and court manners.  Our son is passionate about becoming the best tennis player and absolutely loves the training opportunities with Catherine and Lewis who show their great patience to children and understand each child's different learning styles and needs.  They make our tennis learning full of fun, challenging and rewarding.  We are very lucky have the best tennis coaches just right next to our door steps in our village.
Sue Mappin
ex Executive Director of the Tennis Foundation
Lewis and Catherine have been very stalwart ambassadors for deaf tennis representing GB on many occasions very successfully. They are young and enthusiastic coaches who will inspire many more people to get involved in tennis and allow them to meet new people and have fun. I wish them well in their coaching careers and hope they can continue to mix that with further representations at international level.
Ethel Hutchings
President of Ramsbury Tennis Club
I have been involved with the Ramsbury Tennis Club since its formation over thirty years ago and now it is a very successful club.  Lewis and Catherine, our coaches, are of the highest standard – one only has to look at the faces of both children and adults they are coaching to see how much pleasure they are getting from their lessons.  The improvement in the players is a joy to see.
Roger Henry
Junior Co-ordinator, Ramsbury Tennis Club
Employing Catherine and Lewis, as Head Coaches to Ramsbury Tennis Club, was an inspired move. Since the appointment the junior membership has not only increased but the overall standard of play has increased and many more players are keen to get involved. Their knowledge of the game and standard of instruction is as good as it gets.
Hilda Moore
Chair & Coaching Co-ordinator, Marlborough Tennis Club
Their energy and enthusiasm is boundless. Combined with their keen sense of loyalty and professionalism is a love of the game of tennis which they freely pass onto the people they coach.  It is rare to meet people who are at the top of their own game and have the ability to switch instantly from top level personal training to working with 5 year old beginners – always smiling and never downhearted.
Junior Co-ordinator
Great Bedwyn Tennis Club
Since Catherine and Lewis took over the junior coaching at Bedwyn the juniors have gone from strength to strength.  We have over 70 children now attending coaching sessions and Catherine and Lewis organise everything from ensuring they have the best equipment to arranging junior matches for some of the players. The children really enjoy the coaching sessions and Lewis and Catherine keep them motivated and enthusiastic. I do not know what Bedwyn Tennis Club would do without them both.
Fiona Clague
Parent
Lewis and Catherine have coached Sam from toddler through to a competent junior player in group sessions at Ramsbury Tennis Club, at Primary School and in individual sessions. Their talents as Coaches are exceptional – technically, tactically and mentally. They observe and tweak and coach the smallest of details and make the biggest of differences. They're always professional, passionate about their tennis and their coaching always has the individual player's best interests at the centre.
Sam Clague
Wiltshire LTA County squad player
I like my lessons with Lewis. He teaches me lots of things and explains things really well. Sometimes I have to think a lot when he teaches me new stuff and asks me questions. He always makes me work hard and my lessons are always fun and Lewis is a bit cheeky.  Sometimes I even make Lewis work hard now too because he's taught me to play better and better.  That's his job.  To make me the best I can be.
Ewan Allman
Player
Catherine and Lewis's coaching style and ability is truly extraordinary. Both of them have been crucial in my development as a player and also a coach.  Their knowledge is second to none and I wouldn't be the player I am today without them.  They have taken me from being a orange ball mini tennis player all the way up to competing at the National Tennis Centre in London.  I cannot recommend their commitment and passion enough within the tennis industry.
Marshall Thomas
Tennis Writer
It's been my great pleasure to follow Catherine and Lewis for 15+ years through their development as players, to competing with great distinction on an international stage for Great Britain, gaining their coaching qualifications and going on to develop their own coaching business.  They approach their coaching with the same dedication and attention to detail they need to perform as international players and I can think of no better role models for deaf or hearing players of all ages.
Bryan Whalley
Author of The History of British Deaf Tennis
Catherine and Lewis are an inspiration to deaf tennis and good role models for other deaf tennis players who may be seriously considering following their paths in becoming coaches.
Lorna Smith
Player & Parent
Tennis with Lewis…it's fun, it's hard work, it's frustrating when I can't "connect" but I just LOVE it!  Lewis has taught me for a few years now and has (most of the time!) managed to change my whole approach, as well as learning a lot about strategy and techniques we have had many a chat about how to process the frustration when it doesn't go well and just get back to it and try to make the next shot as good as it can be.
George Wardley
Club Performance & Wiltshire County Player
Lewis and Catherine have been my tennis coaches for many years now and the lessons are always enjoyable, humorous and fun. They are both very inspiring to be around, teaching me not only tennis skills but life and mind set skills too. They have helped me become a much more confident player and my love for tennis started because of them.
Chris & Emma Wardley
Parents
Our son George developed a passion for tennis solely because of Lewis and Catherine. He started very young in their group fun lessons and then he pestered us for private lessons which he has loved ever since. Lewis mainly coaches George now and has been an amazing mentor for him over these last few years. We would highly recommend Lewis and Catherine to anyone as tennis and their lessons have been a wonderful part of Georges childhood.
Stuart Wilkinson
Former lead programme coach Tennis Foundation and UK sport elite programme graduate
As a coaching team Cathy and Lewis cover all the bases.  They bring a unique approach to tennis based on extensive coaching and playing experience at all levels of tennis.  I have personally worked with the Fletchers as players and coaches at both development and international level.  Passion and commitment combined with their personal journeys as coaches and players means that anyone who chooses to step on a court with them cannot fail to be inspired, educated and enthused
Fiona Waters
Parent
My daughter loves attending junior classes at Ramsbury tennis courts run by Tennis Xperience UK.  She looks forward to attending every week, no matter what the weather.  In a few short months the tennis classes have really helped to build up her confidence and she already feels comfortable alongside the other children in the class. The classes are tailored for your child alongside the more formal tennis tuition. Each week Lewis and Catherine try to vary the class to ensure the children remain keen and focused and they clearly love working with children and in return they get the respect of the children they are coaching.
Bryony and Dan Beck
Parents
The team at Ramsbury have been coaching our two sons for a couple of years now. Our eldest, who is nine, has come on leaps and bounds since the initial beginner sessions to a point where is is now competing regularly in tournaments. Aside from the structured lessons and excellent technical coaching from Lewis and Catherine, it is probably his mindset where we have seen the biggest improvements, from gaining in confidence to taking responsibility for both his preparation and post game analysis.
Fiona Clague
Parent
Lewis supported Sam as he entered the competitive tennis environment, providing structure and focus to his development, setting clear objectives, providing practical advice in the lead up to tournaments and guiding and advising us as parents. Both Lewis and Catherine's roles in Team GB tennis have enriched Sam's playing experience and provided active role models in the game as well as bringing up-to-the-minute sports science insight. We feel so fortunate to have found Lewis and Catherine.
Lorna Smith
Player & Parent
Lewis also teaches our children aged 10 and 12, they started with group lessons when they were little and loved their weekly hour of fun with their friends without really realising how much technique they were also learning. Now they both really enjoy it as a game and play well within their pier groups and in their teams at school. More importantly, over the years their tennis coaching has taught them to be resilient, to deal with disappointment and to realise that it can take years of hard work to develop skills.  One day they will understand that Lewis has been teaching them a myriad of  "life lessons" over the years and how truly lucky they have been to have him as their coach.
BRYONY AND DAN BECK
Parent
Our younger son, who is six, attends the group classes, but also particularly enjoys the one-two-one sessions with Neil. Again, highly structured, Neil gets to know the children he coaches and adapts the class and his approach accordingly. Neil shows an incredible amount of patience and really helps focus our son for the full hour.